The next generation for automated depth profile monitoring. Compared to previous developments, the cable is spooled onto the drum with this winch. A cross-thread spindle acts as a linear guide to ensure the cable is placed on the drum in an orderly manner. The overall system is much more compact and versatile.
Technologies used:
Own construction of the winch technology
Rotating signal transmission
Cross-thread spindle
Automatic depth profile recording
A multiparameter probe is moved in the water column of the water body. Depth profiles are started several times a day. The measuring probe positions itself automatically at defined measuring points. Subsequently measured values of all sensors are read and stored tagged with the corresponding depth. Then the multi-parameter probe is positioned at the following depth and the measurement recording is continued.
Measuring technology
The winch is compatible with all multi-parameter probes available on the market. If you already have a measuring system, it can usually be adapted to the system. HydroLab probes from OTT HydroMet and In-Situ Aqua TROLL probes have been used successfully for many years. Data acquisition and control technology are reliably coordinated.
Warum MEDIRA Messsysteme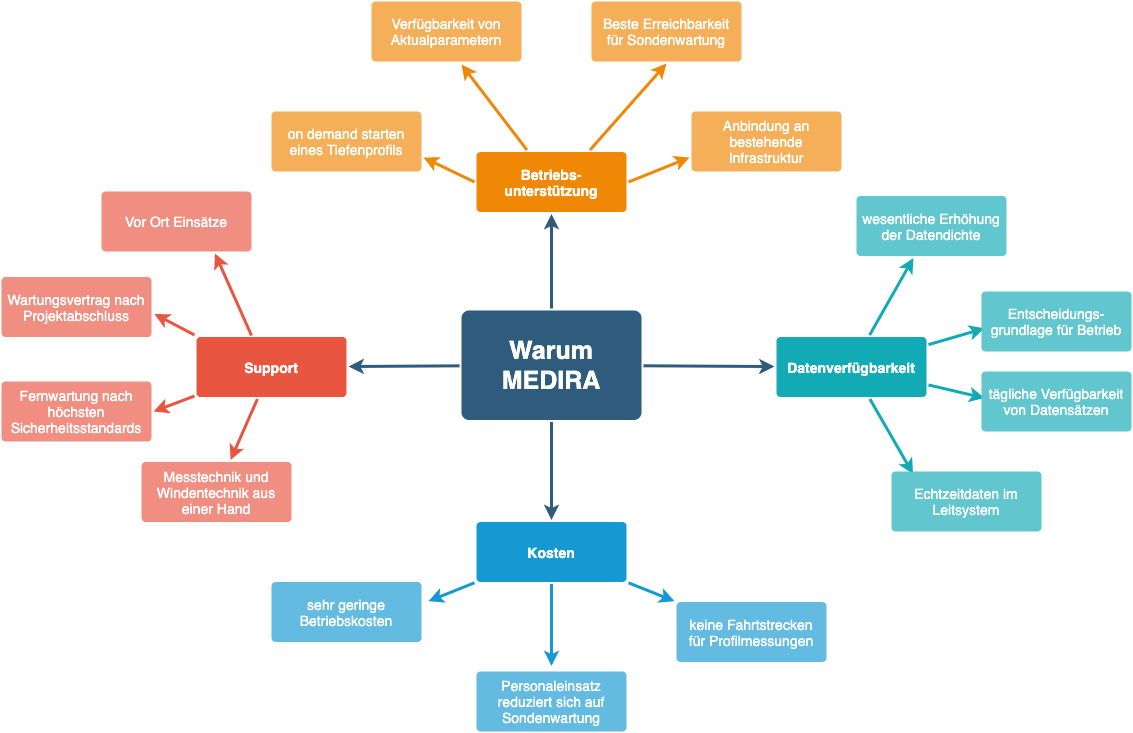 Locations of operation
The winch and measurement technology can be carried out on fixed structures such as dams or extraction towers as well as on self-sufficient measuring buoys. Accessibility of the multi-parameter probe and the winch technology is of high importance for maintenance work and adjustments. The winch and multi-parameter probe can be moved to a platform for maintenance using a foldable boom when permanently installed. In doing so, a sufficient distance to the structure is maintained during operation. In the maintenance position, the multiprobe can be lowered. When operating on buoys, the multiprobe is lifted from the buoy above the water surface for maintenance purposes. Power is then supplied by solar cells and rechargeable batteries.
Specifications
230V or 24V Power supply
Can be used with shore connection or self-sufficient on buoys
Automatic measurement of up to 8 depth profiles per day
Individually adjustable minimum & maximum measuring depth
Maximum depth of the system depending on the multi-parameter probe used (drum capacity 100m or optionally more)
Individually adjustable distance between the measuring points
Individually adjustable pause between the measuring points
Manually approachable depth & parking of the measuring probe with continuous measurement
Project-specific adaptations
Connection to process control system possible
Display available for showing parameters and controlling the winch
Display of the measured data on the analysis dashboard
Automatic start after voltage loss
Storage of the measured data on the control unit or directly in the connected database
Communication technology depending on the desired infrastructure and security standard
Remote maintenance service (firmware update, programme update)
External recording of reference levels possible
Connectivity & Interfaces
Measurement and control technology is ready for the future. When integrating such a system, the focus is not only on integration into operating networks but also on real-time data availability. It is possible to react very flexibly to requirements.
MQTT (TLS)
Modbus TCP/IP
PROFINET
Modbus RTU
PROFIBUS